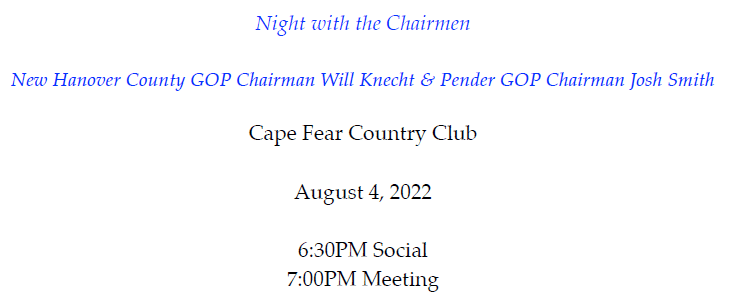 Night with the Chairmen
We are excited to announce that you can register for the August 4, 2022 meeting by going to our website: https://www.lowercapefearrepublicanwomen.com and clicking on the "Donate" button. This will allow you to pay the $35 for dinner. In the memo line, please type "August meeting."
Please register or RSVP for this meeting by July 28th at Noon.
You can still pay by check if that is what you prefer. If you plan to do that, please RSVP to via email by July 28th at noon.
NHC GOP Chairman Will Knecht and Pender GOP chairman Josh Smith will be our guest speakers. They will go over the county plans for GOTV. We will also go into closed session to discuss and vote on the Candidate Disbursement, GetOutTheVote (GOTV) disbursement, and the nominating committee(who will in turn nominate our next executive board slate). This is a VERY important meeting. Please make every effort to attend! More information to follow.
If you have not renewed your membership, you can also do that through the Donate button. Just type in "Membership Renewal" in the memo line. Membership dues for 2023 will be collected in November and December.