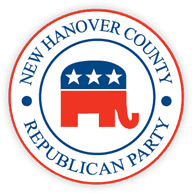 April Monthly GOP Meeting
Conservative friends,
Join us this Thursday night, 4/29th at 6:30pm at our April meeting as we have three fantastic, elected officials joining us to talk education and election integrity efforts.
Representative Ted Davis will be joining us to share what's happening in the legislature on the education and election integrity fronts and how he and other Republicans are fighting the progressive agenda pushed by Gov. Cooper.
School Board members Pete Wildeboer and Stephanie Kraybill will be localizing the education discussion and sharing what's happening at the local school board level related to issues such as transgender "rights", critical race tehory in our curriculum, and the survey pushed by the left as student indoctrination.
Join us at this important meeting and show our support for our elected Republicans who are fighting the agenda of the left.
NHC GOP Meeting
April 29th, 6:30-8pm
Hampton Inn Wilmington Medical Park
2320 S. 17th St