2019 Municipal Elections – EARLY VOTING
From October 16th to November 1st is early voting.  Be sure to vote during this time period if you won't be in town on November 5th, Election Day.
Download your sample ballot
2019 Municipal Sample Ballot
Don't forget to vote!
Learn more about where your One Stop early voting location is by visiting…  https://elections.nhcgov.com/voting-registration/one-stop/
Early voting dates and times below for the 2019 Municipal Elections in The City of Wilmington, Kure Beach, Carolina Beach, and Wrightsville Beach.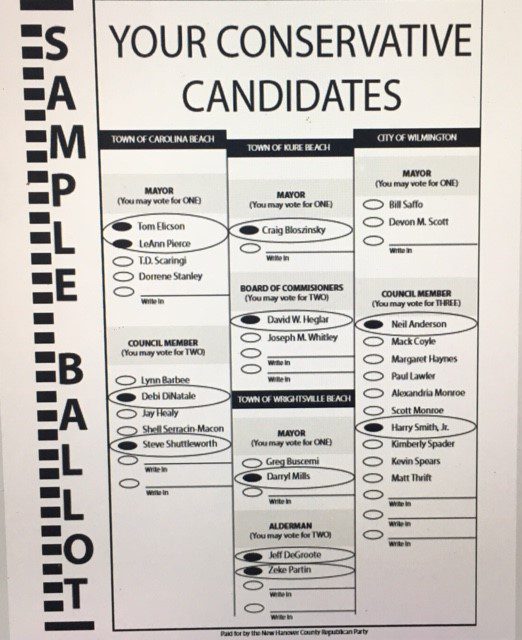 All early voting will take place at the NHC Government Center, 230 Government Center Dr., Suite 34, Wilmington, NC 28403
10/16/2019 Wednesday
8:00 AM-5:00 PM
10/17/2019 Thursday
8:00 AM-5:00 PM
10/18/2019 Friday
8:00 AM-5:00 PM
10/19/2019 Saturday
CLOSED
10/20/2019 Sunday
CLOSED
10/21/2019 Monday
8:00 AM-5:00 PM
10/22/2019 Tuesday
8:00 AM-5:00 PM
10/23/2019 Wednesday
8:00 AM-5:00 PM
10/24/2019 Thursday
8:00 AM-5:00 PM
10/25/2019 Friday
8:00 AM-5:00 PM
10/26/2019 Saturday
9:00 AM-4:00 PM
10/27/2019 Sunday
12:00 PM-4:00 PM
10/28/2019 Monday
8:00 AM-7:00 PM
10/29/2019 Tuesday
8:00 AM-7:00 PM
10/30/2019 Wednesday
8:00 AM-7:00 PM
10/31/2019 Thursday
8:00 AM-7:00 PM
11/01/2019 Friday
8:00 AM-7:00 PM