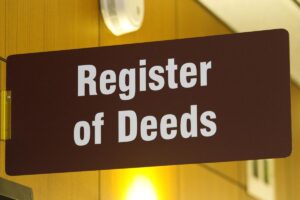 The New Hanover County GOP is in the process of identifying a qualified individual to serve the remaining portion of the term and be a viable candidate for reelection in 2024.
We request that all qualified persons interested in being nominated to serve in this position complete the Application Form.
Please review the "Register of Deeds Overview", which contains a summary of the desired skills, traits, experience, and educational accomplishments.
ALL INTERESTED INDIVIDUALS MUST COMPLETE THE ATTACHED APPLICATION FORM AND SUBMIT NO LATER THAN January 12, 2023. Click here to download, and upload the application below.
Application forms, Resumes and/or Letters of Recommendation received after January 12, 2023, will not be considered.
Please also look over the North Carolina GOP Party Platform.
Register of Deeds Overview
The Register of Deeds (ROD) work at a unique juncture that touches government service, commercial transactions, and even important life moments. The records encompass real estate, birth and death records, marriage licenses, assumed business name certificates, locally recorded veterans' discharge papers (DD-214's), and much more. The work is essential and frequently complex, involving sophisticated financial transactions and the maintenance of records that are integral to community and individual matters.
The ROD works on the frontlines of county government, regularly interacting not only with community members but also other government employees and officials. Those relationships and services in turn play a key role in supporting efficiency in both the public and private sectors. Provided services and records are important not only to the citizens they serve but also to the overall economy.  Many New Hanover County departments could not do what they do without the ROD performing its duties.
The Registrar's position performs a variety of administrative work in support of programs and functions of the Register of Deeds Department and oversees and manages the office.  Work involves independently handling a variety of inquires by phone and in person that will require a working knowledge of departmental programs and policies; composing correspondence and maintaining files; technical work of a legal nature involving the recording, indexing, and issuing of legal instruments such as deeds, deeds of trust, and other legal documents.
The Registrar manages a staff of approximately twenty managers and staff. Tact and courtesy in assisting the public must be exercised by the entire staff.
Examples of Duties Performed
(These examples are intended only as illustrations of the various types of work performed. The omission of specific duties does not exclude them from the position if the work is similar, related, or newly created.)
Oversees and manages the office operations.
Performs research to compile information for development of departmental budget proposals.
Receives and answers inquiries by telephone or in person, providing information based on knowledge of department programs and policies.
The Office staff assists the public in services offered by the Register of Deeds office; probates and records instruments; issues marriage licenses, death, and birth certificates; administers notary oaths; and makes certified copies for customers.
Other critical services and/or processes provided by the Office include:
Indexes real estate documents according to NC indexing standards and NC General Statutes.
Maintains a working knowledge of indexing standards and laws associated with real estate recording.
Creates customer ID's for eRecording customers and maintains list of approved MOUs of submitters for eRecording purposes.
Accesses and navigates the NC Electronic Birth Registration System (EBRS)
Performs work during emergency/disaster situations.
Minimum Desired Traits, Skills and Experience
General knowledge of federal, state and county laws affecting the Register of Deeds office. (While it is not critical that an applicant possesses this knowledge, he/she must be able to demonstrate the ability to research and quickly learn)
Demonstrated past management skills to clearly and concisely communicate general knowledge of office practices and procedures and the ability to direct, organize and coordinate work so as to promote operational efficiency. (Communications, organizational skills, training, and leadership skills is a requirement)
Have considerable knowledge of modern office equipment including computers, faxes, adding machines, telephone systems, word processing programs, databases, etc.
Identify previous positions where the ability to communicate both verbally and through written means while providing customers service.
Have the ability to analyze and interpret policy and procedural guidelines to resolve problems and respond to questions independently. Provide examples when training subordinate staff to ensure office effectiveness and succession planning.
Ability to exercise good judgment and initiative in processing and recording of documents.
Must have or be willing to learn considerable knowledge about North Carolina recording and indexing rules and standards.
Must be familiar with or be willing to learn North Carolina notary standards.
Be able to work in fast-paced environment with frequent interruptions; and be able to multi-task.
Must have an even, pleasant temperament when dealing with the public and co-workers to maintain effective working relationships and to provide quality customer service.
Demonstrate the ability to offer constructive feedback to department heads and other staff members.
Demonstrate experience in budget management, both formulation and execution.
Training and Experience
Associate's Degree in Business Administration, Paralegal or related field and ten (10) years of related administrative support experience; or an equivalent combination of education and experience sufficient to successfully perform the essential duties of the job such as those listed above.