New Hanover County
Midterm Elections
District 18 Sample Ballot
Click here to download
District 19 Sample Ballot
Click here to download
District 20 Sample Ballot
Click here to download
Thursday, October 20 – Saturday, November 5
Northeast Branch – Public Library
1241 Military Cutoff Road, Wilmington, NC 28405
NHC Senior Resource Center
2222 S. College Road, Wilmington, NC 28403
CFCC Main Campus – Health Sciences Building
415 N. 2nd Street, Wilmington, NC 28401
CFCC North Campus – McKeithan Center
4500 Blue Clay Road, Castle Hayne, NC 28429
Carolina Beach Municipal Complex
1121 Lake Park Boulevard, Carolina Beach, NC 28428
Most frequently asked questions
WHEN DOES EARLY VOTING START AND WHERE?
Early voting starts on October 20th, 2022 at 5 locations across the county.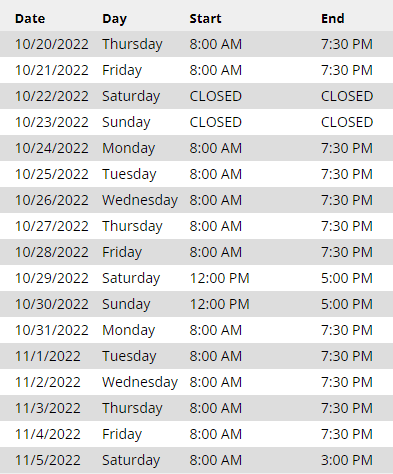 WHERE CAN I VOTE?
During this early voting period you can vote in any one of the five listed polling sites. Regardless of what precinct you reside you can vote at any one of these five locations during the early voting period.
WHAT IS SAME DAY REGISTRATION?
Persons who are not registered in a county may register to vote during the one-stop early voting period. This process is called "Same-Day Registration" and it is permitted under state law. To use same-day registration, a person must complete a voter registration application (available at each polling location) and show an election official proof of residential address in the county. This "proof of address" may consist of a current and valid photo ID or a document showing the name and current address of the applicant. To be current, the document must be the most recent version or at least dated within three (3) months of the date it is presented to an election official. Copies of acceptable "name and current address" documents are permissible.
HOW CAN I CHECK MY VOTER REGISTRATION STATUS?
You can check to see if you you are registered to vote by using the North Carolina Board of Elections voter lookup tool here
HOW DO I REQUEST AN ABSENTEE BALLOT?
Any North Carolina registered voter may request, receive, and vote a mail-in absentee ballot. No special circumstance or reason is needed. Registered voters in North Carolina must request an absentee ballot with an official N.C. Absentee Ballot Request Form. There are two ways to access and submit the form:
Online with "Option 1 – Request an Absentee Ballot" at the N.C. Absentee Ballot Portal.
Track your absentee-by-mail ballot through the mail: Once you have requested your absentee ballot, you can track its status from printed to accepted by signing up online for status notifications through BallotTrax.
The deadline to request an absentee ballot is 5:00 PM the Tuesday before Election Day.
Absentee ballots received after 5 p.m. on Election Day will be counted only if they are postmarked on or before Election Day and received by mail no later than 5 p.m. on the Friday after the election. Ballots without a postmark must be received by Election Day.