New Hanover County
Primary Election
Republican Primary Ballot
Click here to download
Thursday, April 28 – Saturday, May 14
Northeast Branch – Public Library
1241 Military Cutoff Road, Wilmington, NC 28405
NHC Senior Resource Center
2222 S. College Road, Wilmington, NC 28403
CFCC Main Campus – Health Sciences Building
415 N. 2nd Street, Wilmington, NC 28401
CFCC North Campus – McKeithan Center
4500 Blue Clay Road, Castle Hayne, NC 28429
Carolina Beach Municipal Complex
1121 Lake Park Boulevard, Carolina Beach, NC 28428
Most frequently asked questions
WHEN DOES EARLY VOTING START AND WHERE?
Early voting starts on April 28th, 2022 at 5 locations across the county.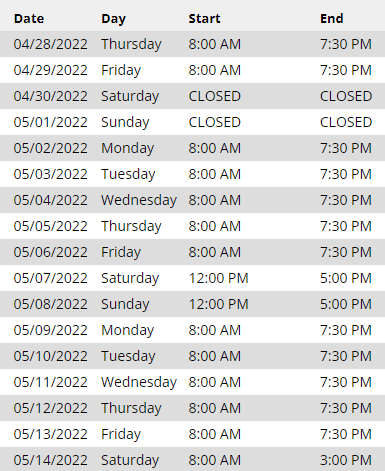 WHAT RACES WILL HAVE REPUBLICAN PRIMARIES?
The 2022 Republican primary elections include the following:
US Senate (Statewide)

Marjorie K. Eastman
David Flaherty
Benjamin E. Griffiths
Kenneth Harper, Jr.
Pat McCrory
Charles Kenneth Moss
Lichia Sibhatu
Debora Tshiovo
Mark Walker
Jen Banwart
Ms. Lee A. Brian
Leonard L. Bryant
Ted Budd
Drew Bulecza

US House of Representatives (District 7)

David Rouzer
Max Southworth-Beckwith

NC Supreme Court Associate Justice – Seat 5 (Statewide)

Victoria E. Prince
April C. Wood
Trey Allen

NC Court of Appeals Judge – Seat 9 (Statewide)

Beth Freshwater Smith
Donna Stroud

NC Court of Appeals Judge – Seat 11 (Statewide)

Michael J. Stading
Charlton L. Allen

Board of Commissioners (New Hanover County) VOTE 2

Joe Irrera
Harry Knight
LeAnn Pierce
Tom Toby

Board of Education (New Hanover County) VOTE 4

Melissa Mason
Chris Sutton
Peter C. Wildeboer
Josie Barnhart
Pat Bradford
HOW CAN I CHECK MY VOTER REGISTRATION STATUS?
You can check to see if you you are registered to vote by using the North Carolina Board of Elections voter lookup tool here
HOW DO I REQUEST AN ABSENTEE BALLOT?
Any North Carolina registered voter may request, receive, and vote a mail-in absentee ballot. No special circumstance or reason is needed. Registered voters in North Carolina must request an absentee ballot with an official N.C. Absentee Ballot Request Form. There are two ways to access and submit the form:
Online with "Option 1 – Request an Absentee Ballot" at the N.C. Absentee Ballot Portal.
Track your absentee-by-mail ballot through the mail: Once you have requested your absentee ballot, you can track its status from printed to accepted by signing up online for status notifications through BallotTrax.
The deadline to request an absentee ballot is 5:00 PM the Tuesday before Election Day.
Absentee ballots received after 5 p.m. on Election Day will be counted only if they are postmarked on or before Election Day and received by mail no later than 5 p.m. on the Friday after the election. Ballots without a postmark must be received by Election Day.